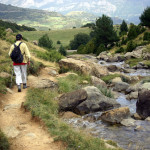 We know that exercise and eating well is good for us. And, its a really long story about why we don't always make healthy choices. What I'm curious about is this, how do we all stay motivated?
This "motivation" intrigues me. It can't be bought, and the timing of it ebbs and flows.
This is a time of year when many people set goals and resolutions, yet so many people don't end up following through.
How can it be different for you? How do you stay motivated?
Here's what works for me right now…
I use a fitbit type pedometer, and I'm fortunate enough that my health insurance company rewards me financially for steps. Its funny because the money does motivate me, but I also know that walking is really good for me and that keeps me motivated, knowing I'm making a healthy choice to move instead of sit. When I first started wearing the pedometer, I discovered that on a few work days I would only get about 5000 steps, which is quite a bit short of the 10K recommendation. Now, I make a point to take short walks all day long, and plan an outside lunch time 20-30 minute walk, being ever hopeful I'll get some vitamin D if the sun is out. This has now become a pleasurable break in my day, so its not hard anymore to go out for a walk!
I recently had surgery, and couldn't lift anything heavy for about a week. At the 10 day mark post surgery, I realized I was edgy and crabby. I hate feeling that way, so for me its worse to feel edgy and crabby, and it feels better to make myself workout. Of course, I instantly felt better, more positive, more energy and less crabby! Basically, I want to feel good, so I schedule my strength workouts into my work week (in my phone calendar), then my husband and I plan to do long walks or hikes on our days off.
I've always had a sugar addiction. And for me, complete avoidance of added sugars and processed sugars works better than just having a little, its too slippery of a slope for me. Plus, I hate having to "detox" from sugar and work through the cravings every time I eat it. And when I don't eat sugar, the cravings for it eventually go away. Now, I eat as much fruit as I want, and that absolutely satisfies me. Plus, I'm integrating more starchy vegetables, legumes, and whole grains to help keep me satisfied. It also works that I get terrible headaches and even joint pain for 1-2 days after eating added sugars. I've suffered enough, now I'm motivated to avoid the junk.
What gets us feeling strong and fit and healthy is consistently making exercise and healthy eating part of our routine. I'm curious, what keeps YOU going and keeps YOU motivated?
If you'd like to talk more about your goals and getting started, click here. I look forward to hearing from you 🙂